Siding can make a huge difference in your home's curb appeal. Siding adds color and style, and replacing siding that is damaged or deteriorating can make your home look newer and better maintained.
When it comes to siding styles, James Hardie offers Colorado homeowners tons of options to choose from. Options like HardieShingle and HardiePlank offer classic beauty that's perfect for renovating historic homes, cape cod style homes, and ranch style properties. And contemporary styles like HardiePanel and Artisan by James Hardie are perfect for creating an edgy, modern look.
Whatever your personal tastes and preferences are, James Hardie is sure to offer a look that you love. James Hardie siding products are installed in over 8 million homes in America and are by far one of the most trusted and recognized brands of siding. Many homeowners will testify that James Hardie siding is by far the superior siding choice.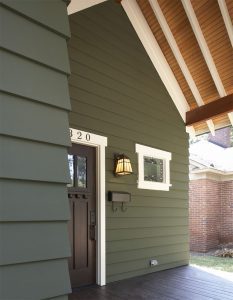 Popular James Hardie
™

Siding Styles

James Hardie siding products can be personalized in various ways. Homeowners can choose from different combinations of colors, textures, and trim options to create a unique look that speaks to their tastes and personality. Here are just some of the most popular Hardie siding styles:

1. HardiePlank Lap Siding
Clean, crisp lines give HardiePlank lap siding a timeless, classic look. A very popular look for this siding option is to accent the main siding color with Arctic White trim.

2. HardieShingle Siding
HardieShingle siding is perfect for Queen Anne and Victorian homes in Old Town Fort Collins, Capitol Hill, Wash Park, and Park Hill neighborhoods of Denver, and the Old Colorado City area of Colorado Springs.

3. HardiePanel Vertical Siding
For a modern look that has tons of style and a sophisticated, upscale look, HardePanel Vertical siding is a great option. This style can even be combined with one of the options mentioned above and used to accent areas like entrances and porches.
Schedule a Consultation
Explore siding options for your home. Call Siding Colorado today to schedule your free design consultation.