The color of your Colorado home says a lot about you. It is a way to make a fabulous first impression but it can also affect the value of your home. Curb appeal is everything and in today's hot Colorado real estate market–putting in a little extra effort to pick an attractive and timeless color for your home can help to sell the home. LP Diamond Kote colors below are sure to please and bring in top dollar should you put your Denver home on the market. Plus these Diamond Kote® siding colors are built on LP® SmartSide and therefore comes with an impressive 30-Year No Fade Warranty.
LP

™

SmartSide

™

Diamond Kote

™

In Midnight Blue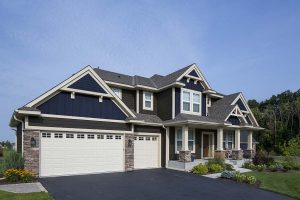 Blues are very popular for siding colors because they tend to be indicative of peace and calmness. So it isn't surprising that one of this year's top choices for Diamond Kote siding is this lovely Midnight Blue. Homes that choose this color literally become the talk of the neighborhood. Plus the depth of Diamond Kote Midnight Blue goes wonderfully with almost any home style historical craftsman to modern.
Style tip: Pair deep blue hues with earthy colored accents that complement the natural surroundings of your home. 
LP

™

SmartSide

™

Diamond Kote

™

In Classic White
A white home will simply never go out of style–especially this classic white from LP. Whether you are going for a vintage farmhouse look or a sharp contemporary stunner–white siding will never lead you astray. To keep your home's appearance from becoming too one not, try combining different., contrasting siding products to add depth and dimension. 
Style tip: Pair white siding with dark trims and contrasting accent pieces for a look that will never be dated. 
LP

™

SmartSide

™

Diamond Kote

™

In Graphite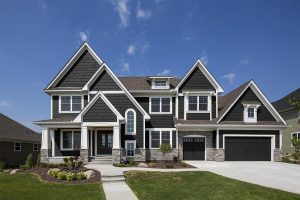 Deep greys are all the rage right now and for good reason–they are stunning. Which is why Graphite from LP Diamond Kote is such a sought after color. It is just dark enough to grab attention but won't make your house angles disappear. There is no denying that this Graphite color is truly elegant especially when contrasted by classic whites and a small pop of color–like your front door. Plus, gray siding is so ubiquitous across any style home from mid-century and Victorian that it is the perfect choice for making new construction and remodels alike.
Style tip: Pair a dark gray siding with lighter colored trim to bring out the architectural lines of your home.
For more information on LP SmartSide siding and the durable and beautiful built on Diamond Kote finish–contact us at Siding Colorado today!