Stone siding makes a lovely accent to any home here in Colorado Springs.  Whether you are looking for elegance or for a grounding element–stone siding is an excellent choice. You can be confident when you opt for stone siding you won't make a "wrong" choice because it works on any style of home.  We have found that both stone veneer and manufactured cultured stone veneer are equally fantastic choices depending on the look you are going for. As the Colorado Springs expert in stone siding, we not only have one of the biggest inventory of stone siding options but we are pros at guiding our customers through our selections.
Our Preferred Stone Supplier: Sunset Stone Siding 
Sunset stone is one of our preferred suppliers of stone siding.  They offer many choices of lovely real and manufactured stone cladding options including:
Manufactured brick: Birck is a lovely option for Colorado Springs homes and you can choose options for edges of tumbled or straight to get just the right look.
Manufactured stone:  We carry eleven different types of manufactured stone from Sunset to create the home of your dreams.
Natural stone: Natural stone veneer is the most realistic look for stone siding and adds the beauty of nature to your Colorado Springs home.
Natural Stone Vs. Manufactured Stone Siding
Natural Stone Siding: Is made from real stone that is sourced from a quarry.  Large pieces of various types of stones are then sliced into a thin profile.  This profile is turned into a "veneer" that is applied as a stone facade on homes. This means the siding made of natural stones will have imperfections, various textures, and variations in tones Many homeowners like this type of "random" organic look that comes with natural or "real" stone siding.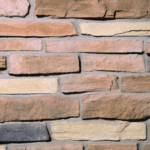 Manufactured Stone: This type of siding is man-made.  It is carefully designed to look like natural stone.  The pieces are laid out randomly but the pattern will repeat since the veneers are mass manufactured to be identical. It is made with a mix of concrete and other aggregate materials then pressed into a mold. From far away it is almost impossible to recognize a man-made stone veneer but up close the repeating pattern may be more noticeable.  However, manufactured stone is still gorgeous and more cost-effective too!
Contact us for more information on stone siding in Colorado Springs.